Raleigh Kitchen Remodel
Home

> Raleigh Kitchen Remodel
9/23/2022
✔ Modern Style.  ✔ More Room.

✔ Functionality.   ✔ Convenient features.

✔ Tons of storage.  ✔ Gorgeous Cabinetry.

We understand what homeowners want from arguably the most important room in their house, and we are here to deliver on those wishes. Our dedicated kitchen remodel team is here to deliver on your remodeling wishes.

Our trained staff work hard to create a beautiful, functional kitchen for every client. We understand what homeowners want from arguably their most important room and are here to deliver on those wishes.  Take a further look at our kitchen remodel services here.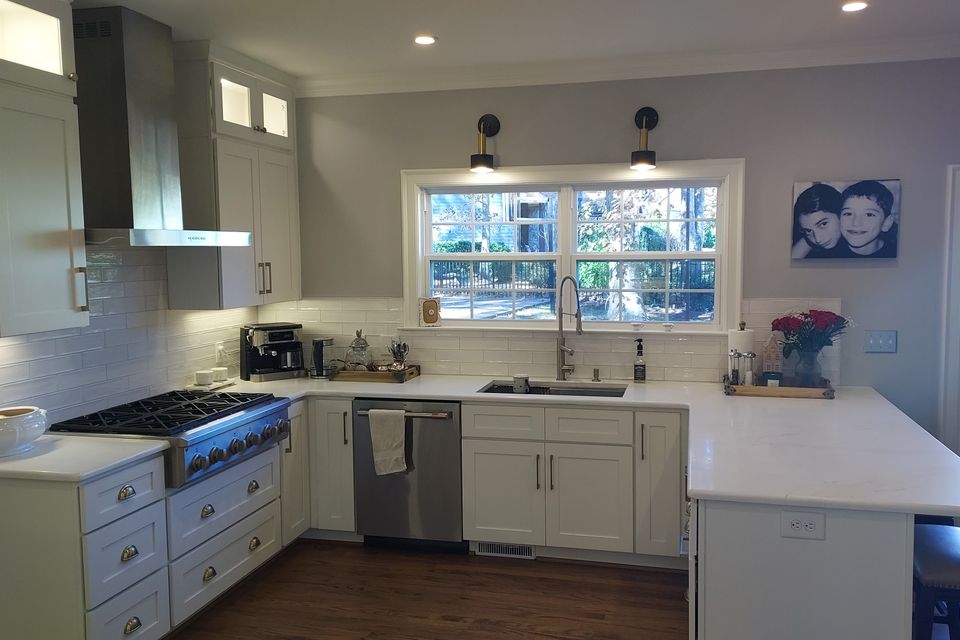 This Raleigh home had had a small, but open galley style kitchen kitchen, so in order to fit the clients design wishes and extend the size of the kitchen we expanded into an open sitting area in the kitchen. The homeowners preferred a separate stove and oven section of the kitchen so we took a space that didn't really have anything there and converted it into a more usable kitchen space, gas stove, farmhouse hood and large sink looking into the back yard.
This kitchen is the perfect combination of modern, functional and warm. The cabinets are a simple white, a classic gray finish on the walls instantly modernize the formerly dark space. We also were able to increase counter space throughout the kitchen with a beautiful quartz countertop.
This kitchen remodel in Raleigh was done with the homeowner's needs in mind. We created extra storage above the cabinets that used to be just an open space, and the use of lighting and frosted glass gives this kitchen a bit more dimension. The previous cabinets were removed and replaced with a modern and clean white. With the use of added lighting infused the once dark bland kitchen enhanced with bright aesthetics. A small, three stool peninsula completed this to create a cozy atmosphere.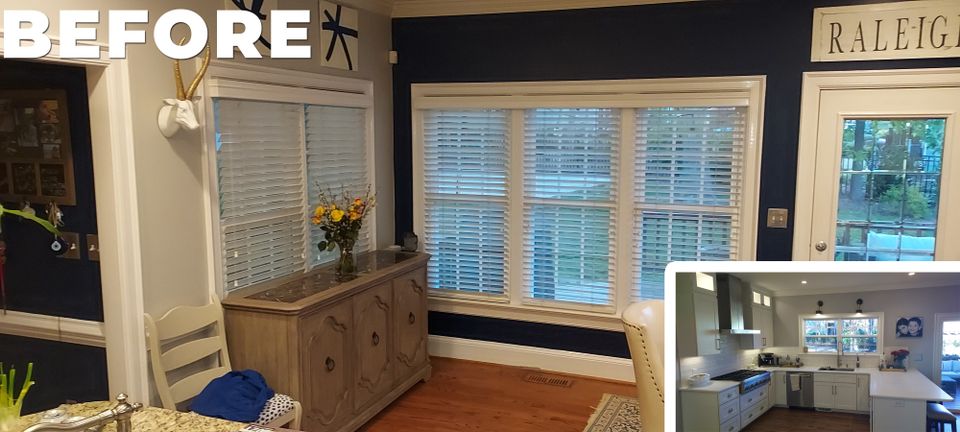 Let's talk about tile. Tile is ever-present in our kitchens, and they truly can add a lot of style and personality to the room. While backsplashes are usually just functional, they can be so much more when you use them as design elements. We replaced the previous diamond, black and white style backsplash behind the stove by installing a beautiful tile backsplash and subway tile across the entire kitchen has both a modern look to it and also is something that works well over the stove. When you have a cooktop this beautiful by using a chrome style hood can bring more attention to it and give the kitchen a change it could use.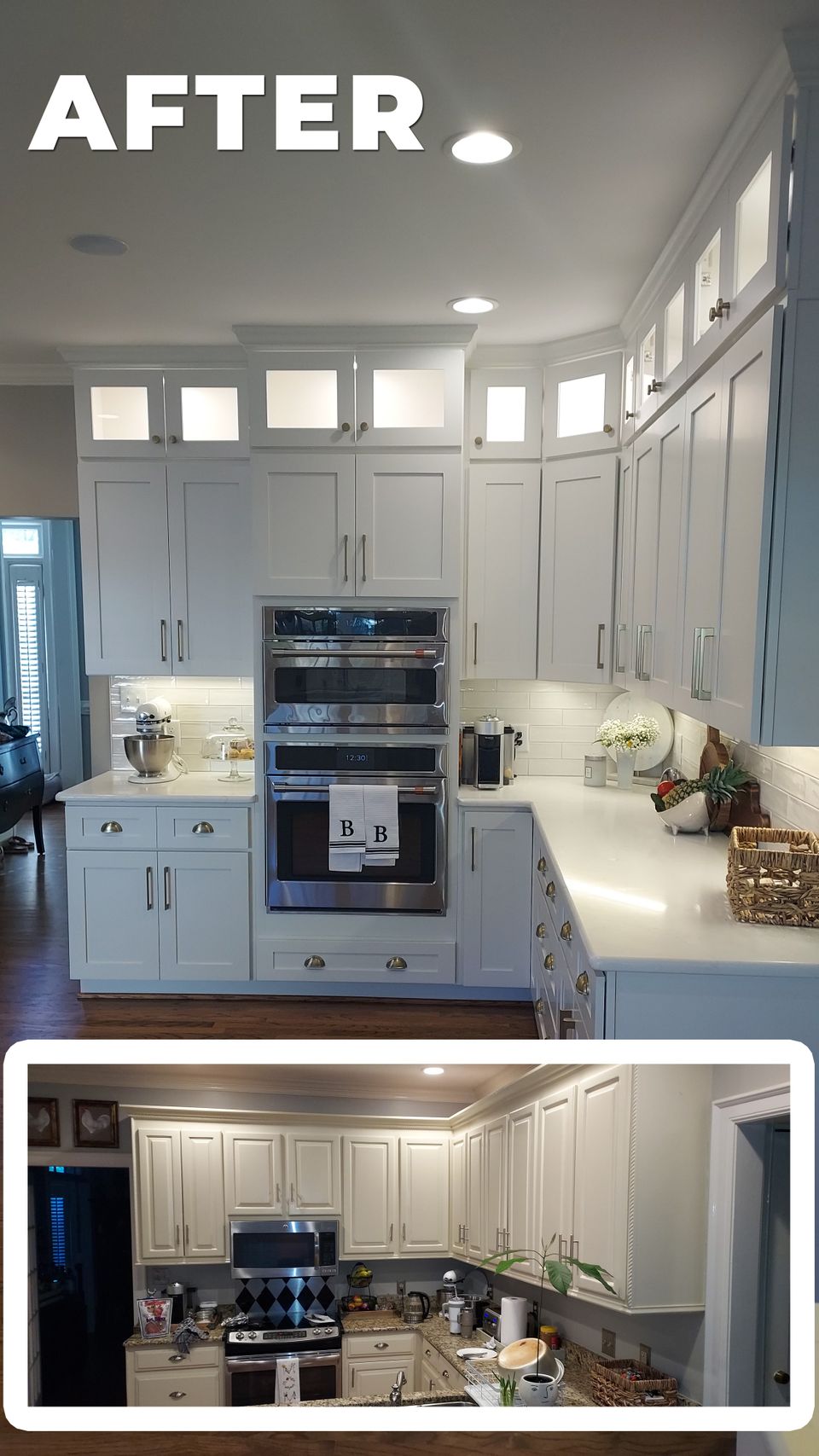 An innovative fit for a variety of everyday kitchen tasks, this wall oven combination has a vibrant stainless look that combines functionality with elegance sure to work nicely with many of the other different kitchen aesthetics. Surrounding this with white on white cabinetry and tile as well as the perfectly placed lighting really sets this Raleigh kitchen off with modern flare.

This look fits seamlessly with the rest of the style of the open home feel. Its hard to even recognize what the kitchen looked like before and what the space looked like before the kitchen renovation in Raleigh was done.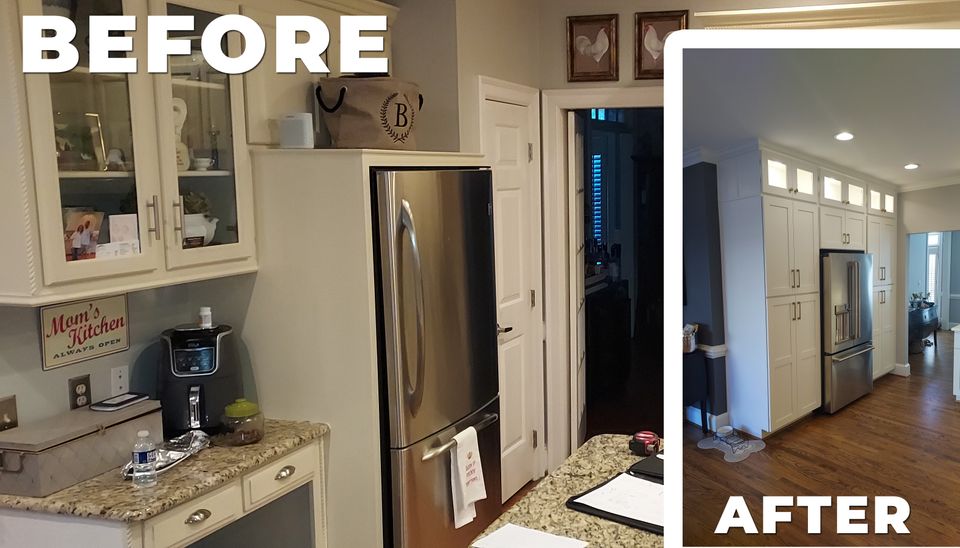 Also, as part the this kitchen remodeling project in Raleigh we took a wall with just pantry entrance, small coffee bar and cabinets, and refrigerator and totally transformed it into a gorgeous modern wall of cabinetry surrounding a brand new stainless steel refrigerator. The shiny and beautiful center point of the the cabinet wall is a huge trend right now.
We wanted to add some more shine to the kitchen, along with the stove top, hood, and wall oven combo as well as keep with the theme of the rest of the kitchen. This continued to give the kitchen a sleek and modern look that will sure to make everyone swoon.
Last but certainly not least, take notice of these gorgeous pendant lights above the windows over the large sink. The body's brushed nickel finish gives a nice contemporary, polished finish to this beautiful kitchen remodel.
Thinking About A Kitchen Remodel in Raleigh North Carolina?